How to properly care for your terrarium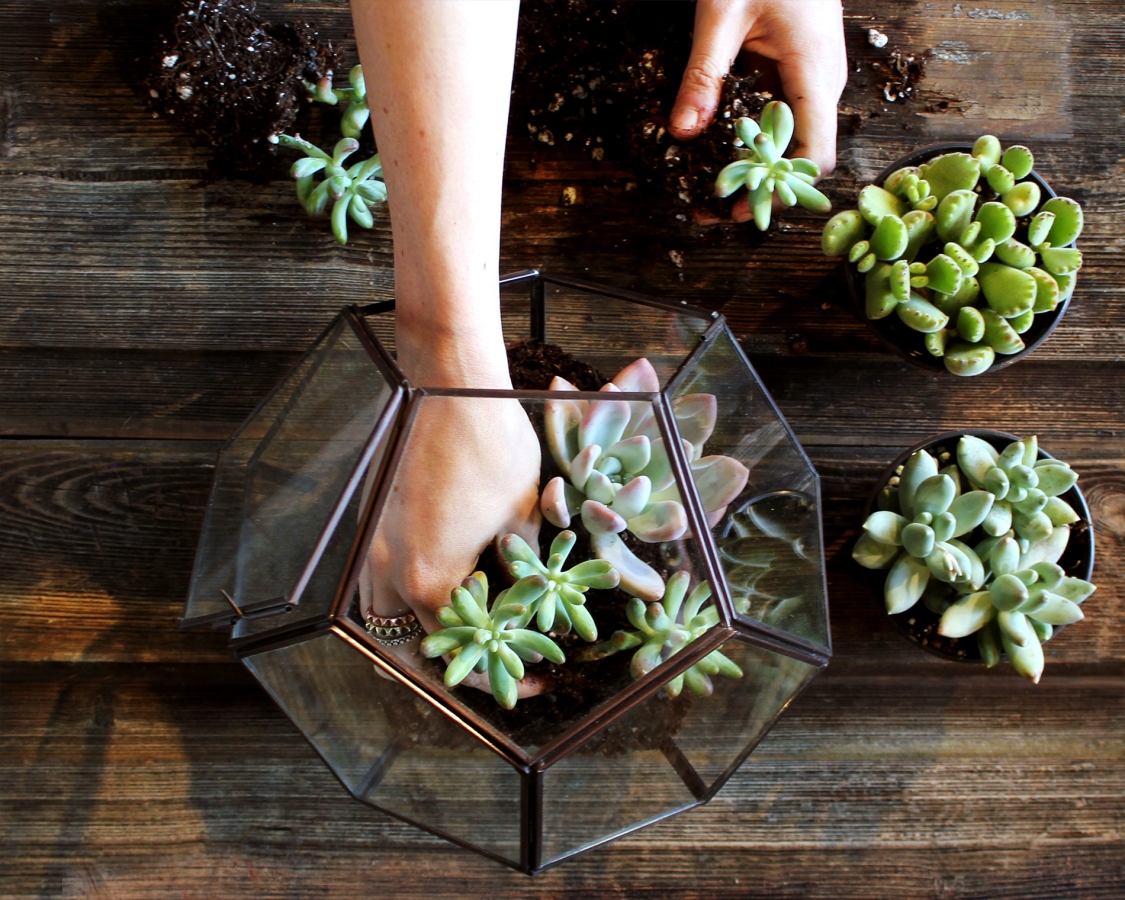 Terrariums are one of the hottest trends of home decor. They're unique shapes and neat appearance make them extremely appealing. You can hang them from patios, put them on a coffee table, or in a bathroom. They can be filled with all sorts of different plants. Although these trendy arrangements are beautiful you have to know how to properly care for them or they won't be beautiful for long. So we asked our expert baristas at The Arrangement Bar for some tips. Watering and lighting
Watering and the type of light your terrarium needs will obviously depend on the plants that are inside of it. With that said:
When watering remember that because terrariums do not have a drainage system it's easier to put too much water in them, which can end up causing the plants to rot and die. Continuing…
The desert terrarium:
If your terrarium is filled with plants of the desert species such as cacti and succulents then they will need to be watered every 2-3 weeks, this also depends on the heat of where they are living. Check the soil before watering, if it is completely dry make sure to lightly saturate the roots with water, but do not flood the terrain. Our barista Jeaneth recommends watering them once every 8 days if they are placed where they receive little light. However,  These do best on a kitchen windowsills and bright rooms.
Tillandsia terrariums:
Usually, we do not recommend spraying your terrarium with a spray bottle because that will only wet the flowering top and not get into the soil. However, it is recommended to spray a terrarium if it is filled with the air plant, tillandsia. If you have a tillandsia filled terrarium water it once a week with a spray bottle. To avoid leaving residue on the glass of a tillandsia terrarium take the tillandsia out of the glass to spray it, let dry, and place back into the container. These plants live longest in the bathroom or kitchen were they can get some humidity and the proper amount of light.
A few more tips and tricks:
If you would like to place your terrariums outside they must be in complete shade, under a well covered patio would be best.
A 10 inch water dropper is also a great way to water your terrariums, they get into the root and will not leave residue on the glass.
Have a pair of long-tip scissors to trim dead leaves, it's important to trim your plant so it can continue to grow.
We hope this has been helpful, if you have any more questions or concerns regarding the care of your terrarium comment below!